I had to make an emergency 8 frame hive for my dad's nuc. It looked like it would have be longer than a week before we could meet up, so they had to have a bigger home. The box, bottom board, and cover took me only about two-three hours to build and another few more to paint. Cost was $28 in wood from Home Depot. I had 1 1/4" Screws, 2 1/2" Screws, and some galvanized nails in the garage. Glue and paint was left over from another project.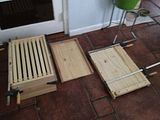 I made a video of the entire Nuc transfer.. Check it out!
Now that I have put together my first BackYard Phenomena Video Subscribe and follow the journey toward sustainable living and food sovereignty!